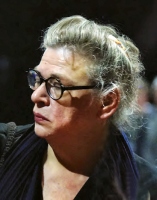 Andrea Schmidt-Futterer was born in Mannheim in 1957. From 1980 to 1984 she worked as Moidele Bickel's costume design assistant at the Schaubühne am Lehniner Platz in Berlin. In 1986, she took a permanent position as costume designer at the Schauspielhaus Bochum.
She has worked freelance since 1995. Designing for both theatre and dance, she contributed to productions directed by Gerhard Bohner, Andrea Breth, Jürgen Gosch, Leander Haussmann, Reinhild Hoffmann, Thomas Langhoff, Claus Peymann, Wolf Redl, Joachim Schlömer, Frank-Patrick Steckel, Sommer Ulrickson and others.
In 1991, Schmidt-Futterer participated in an opera production for the first time, designing costumes for Leoš Janáček's "From the House of the Dead", produced at the Théâtre Royal de la Monnaie in Brussels under the direction of Peter Mussbach. In the following years, Mussbach and Schmidt-Futterer collaborated on a number of opera productions, among them Alban Berg's "Lulu"and Ferruccio Busoni's "Doktor Faust" at the Salzburg Festival , Giuseppe Verdi's "Macbeth" at the State Opera Unter den Linden, Berlin, "Arabella" by Richard Strauss at the Théâtre du Châtelet, Paris, Mozart's "Don Giovanni" at the Milan Scala and Vincenzo Bellini's "Norma" at the Théâtre du Châtelet, Paris.
Additional design credits include opera productions directed by Roland Aeschlimann, Pierre Audi, Regula Gerber, Bernd Eichinger, Bill Friedkin,Lukas Hemleb,Reinhild Hoffmann, Stathis Livathinos, Johannes Schaaf and Monique Wagemakers.
From 1999 until his death in 2015, Schmidt-Futterer regularly worked with Nikolaus Lehnhoff. Their first collaboration was with R. Wagner's "Parsifal", a production first presented at the English National Opera and also seen at the Lyric Opera of Chicago, the San Francisco Opera and the Gran Teatre del Liceu, Barcelona. Subsequently, they worked together on productions of "The Flying Dutchman" in Chicago, Giacomo Puccini's "Turandot" at the Nederlandse Opera, Amsterdam, and the Milan Scala, R. Wagner's "Tristan and Isolde" at Glyndebourne Festival and in Baden-Baden, Franz Schreker's "Die Gezeichneten" (The Branded) and R. Strauss' "Elektra" at Salzburg Festival and lastly G. Puccini's "La fanciulla del West" at the Neder-landse Opera, Amsterdam, and the Opéra Bastille, Paris.
In 2014, she started collaborating with Hans Neuenfels on a production of G. Puccini's "Manon Lescaut" at the Bavarian State Opera in Munich, also designing costumes for the world premiere of the opera "South Pole" by Miroslav Srnka, presented at the same theatre in 2016. Further productions on which she collaborated with Neuenfels were "Ariadne in Naxos" by R. Strauss at the Berlin State Opera (performing in the Schillertheater) in 2015, "Orest" by Manfred Trojahn at the Zurich Opera House in 2017 and "Lucio Silla" by W. A. Mozart in Basel in the same year.
Andrea Schmidt-Futterer has also worked extensively with Nikolaus Brieger since their first collaboration on a production of Hindemith's opera "Cardillac" in Frankfurt in 2000. Subsequent collaborations comprised Olivier Messiaen's "Saint François d'Assise" in San Francisco, R. Strauss' "Salome" and Erich Wolfgang Korngold's "The Dead City" in Geneva, followed by Verdis "La Traviata", R. Strauss "Rosenkavalie", "Hamlet", Lessings "Nathan the Wise" and Schillers "Wallenstein" in Wiesbaden.
Since 2019 she works with Uwe Eric Laufenberg she did the costumes for Verdis "Rigoletto" and Wagners "Tristan and Isolde". She created the costumes for Evgeny Titov's "Summer guests" by Gorki at the Salzburg festival and for stage director Daniela Kercks "Aida"at the Tyrolean festival in Erl.
She continues her artistic cooperation with Alexander Polzin and Sommer Ulrickson at "The art of being human" at the Pierre Boulez Saal in Berlin and 2021 at the world premiere of "Bruno o il teatro della memoria", composed by Mauricio Sotelo at the Monnaie in Brussels.
You can find a complete list of all productions under Chronology.